Ski Boot Heaters vs. Heated Socks - Which One is Better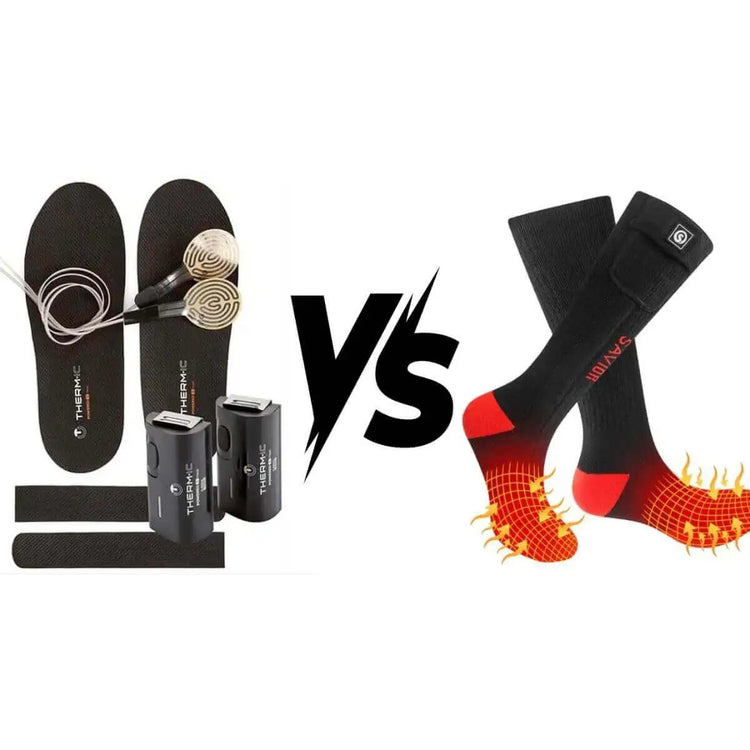 As winter's chill takes hold, every outdoor enthusiast faces a pivotal choice: Ski Boot Heaters or Heated Socks. Which is the key to conquering the cold?
You're not treading this snowy path alone. In this guide, we're slicing through the ice, pitting Ski Boot Heaters against Heated Socks, all to aid you in making an informed decision.
Ready to banish the cold? Let's dive in and heat things—your toasty adventure is just around the corner!
Ski Boot Heaters vs. Heated Socks: The Basics
Ski Boot Heaters
Ski boot heaters are devices designed to keep your feet warm while skiing. They have heating elements inside ski boots and are powered by batteries to give a steady supply of heat.
Pros
Just dry it and don't need to wash it frequently


They last longer than heated socks


Ideal for ultra-thin ski sock enthusiasts
Cons
Installation is difficult and requires specialized personnel


Higher Cost: They are usually pricier than heated socks


Heats only the forefoot
Heated Socks
Heated socks are socks that have built-in heating elements to keep your feet warm. They use rechargeable batteries and are good for outdoor activities in cold weather or people with cold feet.
Pros
The heating element covers the entire toe area, instep, and forefoot


Usually cheaper than Ski Boot Heaters


Can be worn anywhere


Easy to install
Cons
Over time, socks may fall off or pile up


Heating elements and batteries may feel uncomfortable


May need to be cleaned after each use
Ski Boot Heaters vs. Heated Socks: Comprehensive Analysis
Warmth
Ski boot heaters warm the front of the foot, while heated socks warm the toes, top of the foot, and sole.
Winner:
Heated Socks.
Fit & Comfort
Ski Boot Heaters, mounted directly in the toe box of the boot insole, can cause discomfort. Heated Socks offer a more comfortable fit with additional cushioning and support for the feet.
Winner:
Heated Socks.

Temperature Controls
Ski Boot Heaters usually come with a remote for easy adjustments. Some Heated Socks models have remotes, while others do not.
Winner:
Ski Boot Heaters.
Washability
Ski Boot Heaters generally require less frequent cleaning. Heated Socks need washing after use, which could wear them out over time.
Winner:
Ski Boot Heaters.
Power Safety
Ski Boot Heaters have batteries outside, while Heated Socks have batteries inside a pouch.
Winner:
Heated Socks (less exposure to water and snow).
Convenience & Functionality
Heated Socks are versatile for various winter activities, while Ski Boot Heaters are specifically designed for skiing.
Winner:
Heated Socks.
Price
Heated Socks are generally more affordable, though there are various price ranges for both products.
Winner:
Heated Socks.
Durability
Ski Boot Heaters tend to have a longer lifespan due to less frequent washing.
Winner:
Ski Boot Heaters.
Safety
Heated socks are in direct contact with your skin, you need to make sure that their heating elements don't overheat or cause burns.
Winner:
Ski Boot Heaters.
Installation
Ski Boot Heaters require professional boot fitter installation, while Heated Socks require virtually no installation.
Winner:
Heated Socks.
Our Final Verdict
Navigating the choice between ski boot heaters and heated socks just got simpler with our thorough comparison.
Opt for Ski Boot Heaters when:
You want the convenience of adjusting the temperature with a remote


You prefer gear that doesn't demand frequent cleaning


You value the durability of your winter gear


You prefer safer gear
Go for Heated Socks if:
You prefer Fit and Comfort


You want total warmth for your entire foot, including the toes


You want to keep your feet warm during all kinds of winter activities


You want a more affordable option


You don't like difficult installations
Ultimately, the choice between heated insoles and socks comes down to your personal preferences and specific needs.
For folks who want to try out ski boot heaters, the
hotronic boot heaters
are a popular choice. Alternatively, the
Savior Heated Socks
are both well worth checking out if you're interested in heated socks.
Featured articles
How to Wash Heated Socks: A Comprehensive Guide
12 Best Heated Ski Socks For 2023 Reviewed
9 Best Heated Ski Gloves Of 2023 Reviewed-Helpful Guide
FAQs
Are heated socks worth it skiing?
Heated socks are great for skiing if you have cold feet or circulation problems. They are a valuable addition to your gear.
They keep you warm and make skiing more comfortable. They prevent you from getting cold, so you can fully enjoy your time on the slopes.
Are heated ski boots worth it?
Heated ski boots are a good investment for frequent skiers. They keep your feet warm and make skiing more comfortable.
Ski boots with heated liners are cheaper than buying them separately. They also provide a better fit and performance that matches the design of the boot.
How to install hotronic boot heaters?
To ensure a seamless installation of your Hotronic boot heaters, please watch the following video that provides a comprehensive step-by-step guide.