12 Best Heated Ski Socks For 2023 Reviewed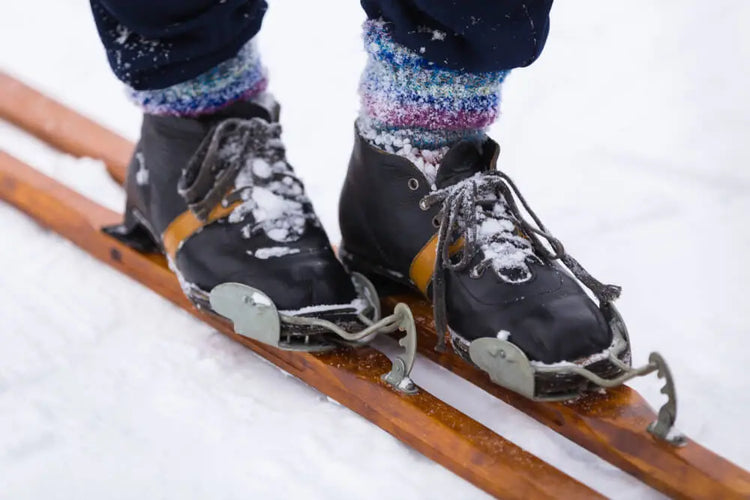 Hey there, ski enthusiasts!
Ever hit the slopes, mastering every turn, and then... bam! Do numb toes hijack the thrill? I've been down that icy road. Too many times.
Most socks talk a big warmth game, but let's face it: the cold often sneaks in. And icy toes? Total fun spoilers.
That drove me to dive deep into the world of heated ski socks. And what did I find? A round-up of the 12 best heated ski socks for 2023 that are total game changers.
Dive in. Your toes? They're about to send some serious thank-you vibes.
My Review Process: Finding Toasty Toes Perfection
Ever ditched a ski day 'cause your feet felt like icicles?
Same here. Electric ski socks? They're game-changers. I mean, who wants to bail early just because of cold toes? Not us.
Now, I've had my fair share of ski socks. Some decent, some... well, not so much. Cold feet can wreck an epic ski day, trust me. After one too many frosty-toed adventures, I'm convinced: that heated ski socks aren't just a luxury, they're essential.
But here's the thing: There's a sea of choices out there. Battery life, heat settings, fit - where do you even start? 
No worries. I've got you. 
I've put these socks through the wringer. Days of testing, comparing, and yes, feeling that toasty warmth. I tested how long the battery lasts, adjusted the heat, and danced to see if they fit well.
The outcome? A list of the top heated ski socks that won't let you down. Whether you're just starting out or you've got ski tales for days, this guide's for you. Dive in and say goodbye to frosty toes!


12 Best Heated Ski Socks For 2023  At  A Glance
Pros
The anti-slip elastic band prevents slipping without tightening your legs.

The covered battery pouch makes battery installation easier than zipper or button pouches.

Your feet get warm in just seconds.

Multiple sizes available: S, M, L, XL.

3 heat level adjustments.

Power display feature.

The heating area of the socks covers both the toes and Instep.
Cons
Some users found them a bit too tight, making it a challenge to pull them up comfortably.

The battery is on the bulkier side for some.

The length from toes to heel might be a bit too long for some users.

Some users reported the socks are a bit thick and can wrinkle easily.

Not warm enough for certain expectations.

The Savior Heated Socks are a top choice for skiers. Their anti-slip band keeps them in place, and the covered battery pouch is user-friendly. They heat up quickly and come in sizes from S to XL.
While there are mentions of them being slightly tight or bulky, their warmth and features make up for it. If you prioritize instant warmth and fit, these socks are a go-to.
Pros
30-second rapid heating.

Heating elements cover the top of the foot and toe area.

Soft, breathable material.

3-setting temperature controller.

The socks look great and are well-made.

Multiple sizes available: S, M, L, XL.
Cons
The calf section is too tight and small in size.

The battery is too heavy.

Not warm enough.
The Sun Will Battery Heated Socks are a game-changer for those frosty outings. They warm up in only 30 seconds and provide full warmth to both the foot and toe area.
However, there are a couple of drawbacks to note. The calf section can feel a bit tight, and the battery might be on the heavier side for some.
These socks are good for people who want both comfort and functionality. They have soft, breathable material and you can adjust the temperature in three different settings. 
Pros
Long-lasting 5000mAh battery.

4 Level temperature.

App remote control.

High quality cotton materials.

Quickly heat your entire soles, toes, and insteps.
Cons
The product runs small.

The battery is somewhat heavy.

Only XL size.
The JulyPanny Electric Heated Socks stand out with their 5000mAh battery and 4-level temperature settings. The high-quality cotton offers comfort, while the quick heating feature provides ample warmth.
However, there are a couple of things to note. The socks tend to run small, and they only come in an XL size. Additionally, some might find the battery a bit on the heavy side.
For those who prioritize high-tech features and quality materials, these socks are worth considering. Just be sure about the size before purchasing.
Pros
Heats up quickly within 1 minute.

3 temperature settings.

Sweat-absorbent, breathable fabric.

Overcurrent, overload protection features.
Cons
Only available in M and L sizes.

Not warm enough.

These socks are too tight and don't stretch to fit the thighs.
The SVPRO Heated Socks heat up fast and offer three temperature settings. Their breathable fabric ensures comfort and sweat absorption.
However, they come only in M and L sizes and might not be warm enough for some. The fit can also be tight for those with larger thighs.
These socks are great for quick warmth in moderate conditions, but check the size and fit first.
Pros
Battery power indicator.

Moisture-wicking fabric.

Heating elements cover the entire toes, top, and bottom of the foot.

3 temperature settings.

Multiple size options: S, M, L, XL.
Cons
The calf section of the socks is too tight.

The toe area of the socks is too large.

Not warm enough.

You can feel the wires pressing on your toes.
The SNOW DEER Heated Socks provide solid heating with moisture-wicking fabric and comprehensive heating coverage. They feature a battery indicator and 3 temperature settings, available in sizes S to XL.
However, they have a tight calf section, and an oversized toe area, and might not be warm enough for some. Some users also noted feeling the wires on their toes.
Overall, they're suitable for users not needing extreme warmth.
Pros
Soft, breathable, and warm fabric.

Heats up to 149°F.

4 heating levels.

Great fit and comfort.

Quick heating in just 10 seconds.

Premium heating elements cover the sole, instep, and toes.
Cons
Only available in L size.

The battery pack can be a bit bulky.

Can slightly feel the heating wires.
The DELURA Heated Socks provide swift warmth within 10 seconds and offer up to 149°F with four heating levels. Their design ensures a snug fit and comfort, while quality heating elements envelop the sole, instep, and toes.
However, they're only available in size L. Some might find the battery pack bulky and feel the heating wires slightly.
Overall, these socks are a top choice for those seeking consistent warmth in colder conditions, barring the minor cons.
Pros
Three heating settings for adjustable warmth.

Uses high-quality, soft, and breathable materials.

Extra padding strengthens the heel and toes.

Heating covers the bottom and front of the foot.
Cons
Only one size is available.

Thick and painful wires.

Long metal threads along the length of the sock cause discomfort.

Not very warm.
The Autocastle Electric Heated Socks come with three heat settings and are made of soft, breathable materials. They have added cushioning in the heel and toe for comfort.
However, they're available in only one size and have some issues like thick wires causing discomfort. The heat lacks consistency, especially at the toes, and we can improve the battery design.
If you can overlook these concerns and prioritize the heating feature, they might be a consideration. Otherwise, there are other options in the market to explore.
Pros
Three adjustable heat settings.

Soft material.

Highly elastic and stretchable.

Works up to 6.5 hours on the lowest setting when fully charged.
Cons
Only available in M size.

Not machine washable.

Not warm enough.

Bulky battery weight.
The Rabbitroom Electric Heated Socks stand out for their adjustable heat settings and soft, stretchy material. These stretchy things fit well and, when fully charged, can stay warm for up to 6.5 hours on low heat.
However, bear in mind they come only in M size and aren't machine washable. While they might lack the desired warmth for some, the main drawback could be the bulky battery weight. Consider these aspects when deciding.
Pros
Thin compression design for snug shoes.

Enhanced arch support.

High merino wool content.

Reinforced toes and heels.

APP remote control.
Cons
Expensive price.

Only available in M and XL sizes.
Lenz Heated Socks are top-tier in comfort and quality. Their sleek design fits snugly in shoes.
The high Merino wool content keeps feet warm. Arch bands give great support. Plus, the APP control is a neat feature.
But, they're pricier and only come in M and XL. For the ultimate sock experience, choose Lenz.
Moisture-wicking, breathable, quick-drying, and stretchy.

Heats up in just 10 seconds.

Three-level temperature controller.

USB-C charger with a slim battery design.
Cons
Only available in one size.

Can feel the cable underfoot.

Not as warm as expected.

Socks are not tall enough.
HONGYI Heated Socks offer quick warmth and comfort. Their fabric is moisture-wicking, breathable, and stretchy. Plus, they heat up in just 10 seconds and feature a modern USB-C charger.
But, one can only find them in one size, and you can feel the cable underfoot. They might not be as warm as some hope and aren't very tall.
Overall, if you value fast heating and a sleek design, HONGYI is a solid pick. Just be aware of the potential drawbacks.
Pros
Heats up in just 30 seconds.

Heats the entire sole, toes, and top of the foot.

4 adjustable temperature settings.

5000mAh large capacity rechargeable battery.
Cons
Only available in XXL size.

Not warm enough.

Very heavy battery pack.

Battery life is shorter than claimed.
The Antrango Heated Socks heat up in just 30 seconds and offer full-foot warmth with four temperature settings. A strong 5000mAh battery powers them.
Yet, they're only available in XXL size, and some users find them not warm enough. The battery is also heavy and might not last as claimed.
They are good for people who want fast heating and power, but remember to think about the size and battery.
Pros
5000mAh high-capacity rechargeable battery.

Smart APP control.

Type-C charging port.

Three heating settings.
Cons
Only available in XL size.

Runs small in sizing.

The app lacks a battery level indicator.

Some users report APP connection issues.
Relirelia stands out as this season's top heated socks. With a 5000mAh battery and a Type-C port, they ensure prolonged warmth and quick charging.
Although only available in XL, they fit more like a large. With three heating settings, they adapt to your comfort needs.
The Smart APP control is handy for temperature adjustments. However, some users did report app connection issues. Still, they're a top pick for those braving the cold.
What Are Heated Ski Socks
Heated ski socks are special socks for cold days on the slopes. They have a heating element inside to keep your feet warm.
You can control the heat in some socks with a button or even your phone. They are made of materials like cotton and wool. These socks help you ski or snowboard better by keeping your feet warm and comfy.
Why Buy Heated Ski Socks
Buying heated ski socks is a smart move for winter sports lovers. They ensure your feet stay warm, even in freezing temperatures. Cold feet can lose much of their muscle power and endurance.
Heated socks solve this by delivering instant warmth, and boosting your physical strength. This means more fun on the slopes and less risk of injury. Plus, some socks let you adjust the heat with a button or phone app.
In short, they're a mix of comfort, safety, and tech for your feet.
Ski Boot Heaters VS Heated Socks
Ski boot heaters warm just the toes in your boots. Heated ski socks have a few benefits over them. First, you can use heated socks for many winter activities, not just skiing. Second, they feel like regular thin socks, so they're comfy.
Boot heaters are more about cutting out the cold in specific spots. If you want all-around warmth and versatility, go for heated socks. If you just want to target cold toes while skiing, boot heaters might be better.
Heated Ski Socks Buying Guide
When buying heated ski socks, consider the following:
Temperature Level
Most heated socks offer multiple temperature settings. Depending on how cold it is or your personal preference, you can adjust the warmth. Ensure the socks have a range that suits your needs.
Battery Life
Most heated socks offer 3 to 10 hours of warmth. Think about your skiing duration to pick the right battery life. The popular choice is rechargeable 3.7 Volt Li-On batteries.
Material
They're usually made of a blend of merino wool and synthetic fibers. This mix ensures comfort, elasticity, and moisture-wicking.
Remote Control
A remote control or a Bluetooth connection to your phone makes adjusting the heat easier. It's convenient to change settings without fumbling with the socks.
Fit & Comfort
Some heated socks feel like regular thin socks, ensuring comfort. However, check the battery placement to avoid discomfort.
Price & Quality
While some socks might be pricier, they offer higher temperature settings or longer battery life. But there are also budget-friendly options that provide good value.
Good ski socks can make your skiing better by keeping your feet warm and improving your performance on the slopes.
Summary
Savior Heated Socks are the top pick overall, offering quick warmth and a user-friendly design. For the best reviews, JulyPanny Electric Heated Socks stand out with their powerful battery and quality material.
If you're watching your wallet, SVPRO Heated Socks are your go-to, providing efficient heating on a budget.
Now I'd like to hear from you: Which do you think are the best heated ski socks?
Either way, let me know by leaving a comment below right now. 
Frequently Asked Questions
Are heated ski socks safe?
Heated ski socks use battery power, making them safe with no shock risks. They warm up your feet with adjustable settings. Some connect to apps for easy control.
Proper care, like hand washing, ensures their safety and long life. If used correctly, they're a safe choice for warm feet on the slopes.
Can you wear heated socks in ski boots?
Yes, heated ski socks fit in ski boots. They're designed for warmth during skiing. Pick ones that feel like regular socks and check battery placement for comfort. Always dry boots after use for the best warmth.
How long can you wear heated socks?
Heated socks can provide warmth for varying durations depending on their settings. On high heat, they last 3 hours. On medium-high heat, they last 4 hours.
On medium heat, they last 5.5 hours. On low heat, they last up to 10 hours. The socks have a 5000 mAh battery that can give 10 hours of warmth after charging for 3-4 hours.
There isn't a strict rule on how often to wash heated ski socks. However, like regular socks, it's best to wash them when they are visibly dirty or have an odor.
Frequent washing can wear out the heating elements faster. For many users, after 3-4 uses or when they start to feel less fresh is a good time. Always follow the manufacturer's care instructions to ensure longevity.
Can I put heated socks in the dryer?
Don't put heated socks in the dryer. Always remove the battery before washing. After washing, let them air dry. Check the sock's label for specific care tips.


Featured articles
9 Best Heated Ski Gloves Of 2023 Reviewed-Helpful Guide