9 Best Heated Ski Gloves Of 2023 Reviewed-Helpful Guide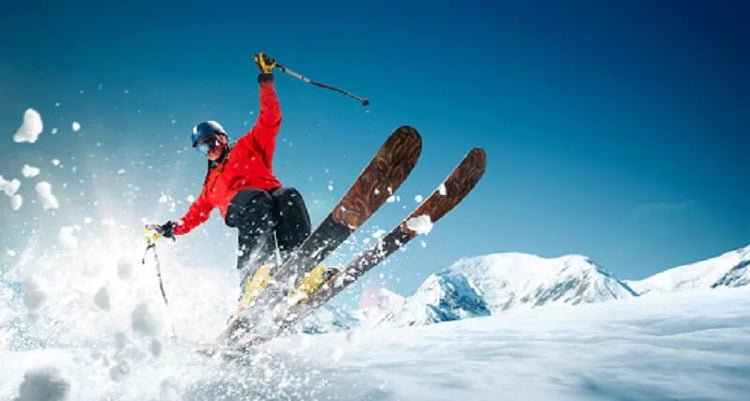 The joy of winter skiing can often be dampened by biting cold, especially when your fingers feel icy.
Traditional ski gloves might fall short on cold days but enter heated ski gloves. These gloves with heating elements that ensure continued warmth for your hands even in the coldest conditions.
Choose the best heated ski gloves and enjoy an unparalleled warm skiing experience.


Why should I review?
While skiing, I learned that even good equipment can fail in the cold, causing fingers to suffer the most. This sparked my journey into heated ski gloves.
After extensive testing, focusing on heating efficiency, battery longevity, and comfort, I've learned what truly works.
This blog shares insights that guide you to find heated ski gloves for warmth without compromising the ski experience.
9 Best Heated Ski Gloves
Faced with so many heated ski gloves options, how do you pick the right one? I've compiled a list of the best heated ski gloves for 2023 to keep your hands from feeling cold.
Heated Ski Gloves Guide
Pros
There are 3 heating levels, find the temperature that's right for you.


Waterproof, windproof, and breathable, for a comfortable experience.


Heats in just a few seconds, warming both the back of your hand and fingers.


Touchscreen compatible and anti-slip.


White luminous strip for added safety at night.
Cons
A bit bulky.


Users report that the battery isn't durable.


Heating isn't very effective in extreme cold.

The SAVIOR HEAT Heated Gloves offer a customizable winter experience with three heating levels to match your comfort.

They're designed to ensure a snug fit by being waterproof, windproof, and breathable. Quick to heat, they warm both hands and fingers efficiently.
Plus, they come with touchscreen compatibility and an anti-slip feature for convenience. A white luminous strip is an added safety touch for nighttime use.
Some people may think they are too large. There have been concerns about their battery life. There have also been concerns about how they perform in very cold weather.
If you value adjustable warmth and safety features and can overlook minor battery concerns, these gloves are worth considering.
Pros
Intelligently displays the remaining battery life.


There are 3 heating settings; choose the temperature best suited for skiing.


The heating element covers the back of the hand and the entire fingers, warming the whole hand. There's a touch sensor on the thumb, making it easy for you to use any smart device.
Cons
For extremely cold weather conditions, the highest heat setting might not be sufficient.


The insulation of the gloves is poor, so once the battery runs out, hands can become very cold quickly.


The zipper for securing the battery is prone to breaking.

SNOW DEER mittens offer smart features like a battery life display and three heat settings perfect for skiing.

They ensure warmth across the entire hand and even let you use smart devices with a thumb touch sensor.
However, in severe cold, they might not provide enough warmth, especially if the battery dies. The battery zipper can also be fragile.

They're great for moderate cold, but for extreme conditions, consider other options or backup batteries.
Pros
7 layers of material ensure sufficient warmth.


The battery insulation bag is made of diving material, which has a stronger temperature locking effect.


The lost rope prevents you from losing your gloves while skiing or working.


Ergonomic-design heating gloves fit your hands perfectly during sports.
Cons
The sizes run small.


 Doesn't fit well.


 The zipper for the battery compartment is prone to breaking.

WASOTO Ski Gloves have 7 layers for warmth and a diving material battery bag for better temperature retention.
The lost-rope feature prevents you from losing them during activities. The ergonomic design ensures a comfortable fit during sports.
Be careful with sizes, they may run small and not fit well for some people. Also, the zipper on the battery compartment can be delicate.

Ideal for those looking for layered warmth but ensure you pick a size larger than usual.
Pros
Comfortable and resilient Lycra, Super Soft Thin Glove Liners.


Thin Heated glove liner, can be worn with other gloves.


The heating element covers the entire back of the hand and palm, alleviating symptoms caused by poor blood circulation.
Cons
The battery isn't durable.


The inner lining is too thin, and not very warm.


Customer service isn't great.


The fingertips don't heat.

Sun Will Heated Ski Gloves prioritize comfort by designing them with resilient Lycra and super soft thin glove liners. These thin liners enable users to wear them with other gloves, offering flexibility in usage.

Their heating elements warm both the back of the hand and the palm, helping people with poor blood circulation.
However, potential buyers should note the battery's limited durability and the glove's relatively thin inner lining. Additionally, the lack of fingertip heating and less-than-stellar customer service might be concerns.

These gloves are great for layering and improving hand circulation, but not for very cold weather.
Pros
Perfect liner gloves effectively prevent odors and keep your hands warm while keeping them breathable and comfortable.


You can use smartphones, tablets, and other smart devices without removing gloves because the thumb and index finger can sense touch.


The battery pouch is located in the wrist area, and its zippered design prevents the battery from slipping out.


This thin heated glove has 3 heating settings, with the highest temperature reaching 150°F. Simply press the switch button to adjust to the temperature you desire.
Cons
The battery isn't durable.


The seams are prone to tearing.


The fabric is really thin.
Day Wolf Heated Ski Gloves are designed with liners that offer both warmth and breathability, effectively preventing odors.

A standout feature is their touch-sensing capabilities on the thumb and index finger, making device use convenient.

With a strategic battery pouch location and three heating settings (up to 150°F), these gloves prioritize user experience.
However, be mindful of the less durable battery, fragile seams, and thin fabric.

These gloves are suitable for people who need gloves that are compatible with devices and can be adjusted for warmth. However, they may not be durable if used extensively or in extremely cold weather.
Pros
Made of goatskin & Taslan with 3M Thinsulate insulation, these mittens are water-resistant, breathable, and keep your hands warm all day.


Adjust for the most comfortable fitting with the added velcro wrist easily.


3-piece cutting and ergonomic pre-curved design help increase dexterity and make the mittens fit your hands better.


LOOSE-PROOF WRIST CUFF: No worries about losing your mittens when you take them off.
Cons
The battery (stored in the pocket on the palm side of the wrist) is very bulky and uncomfortable.


The battery isn't durable.


Some users reported that the thumb doesn't heat.
ORORO Heated Ski Gloves boast superior construction using goatskin, Taslan, and 3M Thinsulate insulation, ensuring water resistance and all-day warmth.

They prioritize comfort with their adjustable velcro wrist and ergonomic design, guaranteeing a snug fit.

The unique loose-proof wrist cuff ensures you won't misplace these mittens during winter adventures.
The battery's position is uncomfortable. It is bulky. Its durability is doubted. Some users said the thumb heating is not enough.

These gloves are suitable for those seeking premium materials and design, but those sensitive to battery placement might wish to reconsider.
Pros
Heats quickly in just a few seconds; the hand-shaped heating element provides optimal warmth for your hands.


20% longer than other ski gloves on the market, effectively retaining warmth for your hands.


The index fingertip of these gloves features enhanced touchscreen material. It remains sensitive even at -40°F, allowing you to use devices without removing the gloves.


The soft lambskin palm and fingers ensure a strong and flexible grip on the snowboard. It's versatile and durable, perfect for winter sports.
Cons
Users report that the fingertips don't heat, and the thumb isn't well-heated either.


Not very warm in extremely cold weather.


The battery isn't durable.


The switch position might interfere with the placement of ski pole straps.

Venustas Heated Ski Gloves warm up fast, are longer for extra warmth, and work with touchscreens even in extreme cold.

The soft lambskin ensures a strong grip for winter sports.
But, they have problems with heating fingertips and thumbs, battery lasting, and a switch that could affect ski pole straps.

Great for tech-savvy people in mild cold, but not for extreme cold explorers or skiers concerned about the switch's position.
Pros
Waterproof, breathable, and non-slip.


Thoughtful design details: adjustable wrist strap, battery storage pouch, toggle drawstring, and reflective strip.


Easily use touchscreen devices without taking off these heated gloves.


Offers far-infrared heating, which helps stimulate blood circulation, warming your hands after skiing in just 30 seconds.
Cons
Some users report that the fingertips don't stay warm.


Battery life is short.


In extremely cold temperatures, the gloves might not keep your fingers as warm as you'd like.

AKASO's Heated Ski Gloves are waterproof, and breathable, and come with various thoughtful features like an adjustable wrist strap and reflective strip.

Their far-infrared heating warms your hands quickly after skiing. However, some users found the fingertips didn't stay warm and the battery life was lacking.

These gloves are suitable for skiers looking for quick warmth recovery and tech convenience, but might not be the best for extremely cold conditions or extended use.
Best Budget: Autocastle Heated Ski Gloves
Pros
3 Levels Temperature Control and The highest temperature up to 150 Fahrenheit Celsius.   


Ultra Thick Cotton heated gloves, even do not turn on heat settings, can provide enough warmth.


Technology waterproof material multi-layer heating to keep warm.
Cons
The battery isn't durable.


Sizes run small.


For extremely cold weather, the highest heat setting might not be enough.

Autocastle's Heated Ski Gloves offer three temperature controls with a high of 150°F.

With ultra-thick cotton and multi-layer heating technology, they provide substantial warmth even without the heating feature on.
However, users have noted durability issues with the battery and sizing concerns.

These gloves are good for moderately cold weather, but not for extremely cold weather. They may not keep you warm enough.
Heated Ski Glove Buying Guide
When purchasing heated ski gloves, consider the following factors to find the product that's best for you.
Material: Choose gloves made of high-quality materials for durability. Look for materials that can withstand harsh winter conditions.
Insulation: Ensure the gloves have proper insulation. This will keep your hands warm, even without the heating element active.
Size: Pick the right size for a snug fit. Ill-fitting gloves can affect warmth and skiing performance.
Pre-heat Time: Consider gloves with a quick pre-heat time. You don't want to wait too long before feeling the warmth.
Heating Power: Check the heat output. Higher heating power means warmer hands in colder conditions. 
Battery Life: Opt for gloves with a long-lasting battery. This ensures your hands stay warm throughout your ski session.
Waterproof, Windproof, Breathable: Make sure the gloves are waterproof and windproof but still breathable. This keeps hands dry and comfortable.
Dexterity: Look for gloves that allow easy hand movement. This is crucial for holding ski poles and other tasks. 
Touchscreen: If you use smart devices, go for gloves with touchscreen compatibility. This means you won't have to remove them to use your phone.
Price: Set a budget and find gloves that offer the best value within your range. Remember, quality often comes at a price.
Reviews: Read user reviews. They provide real-life insights into glove performance and durability. For example, reviews about this brand on Amazon or Trustpilot.
Keep these factors in mind, and you'll find the perfect pair of heated ski gloves for your needs!
Summary
Read our guide on heated ski gloves to stay warm while skiing, snowboarding, or hiking in winter.

Is this guide useful?

Kindly share it to support warm and enjoyable winter activities.
Frequently Asked Questions
Are heated ski gloves worth it?

Yes,

Heated ski gloves keep hands warm in the cold, making skiing more comfortable and reducing the chance of frostbite.

They're especially beneficial for those sensitive to cold.



How do heated ski gloves work?

Heated ski gloves are powered by batteries that provide energy to the heating elements. These elements generate heat to keep your hands warm.



What are the best heat gloves for skiing?

The best heated ski gloves for skiing are SAVIOR HEAT, Venustas, and SNOW DEER.



How do skiers keep their hands warm?

Skiers keep their hands warm by wearing heated ski gloves. To further ensure warmth, many also use hand warmers placed inside gloves.

Additionally, wearing heated jackets, heated socks, and heated pants enhances overall warmth during skiing.

Skiers often rest in cozy lodges and wear loose ski clothes to keep their blood flowing and stay warm.



Can ski gloves be washed?

Yes, While hand washing is generally recommended to maintain their best condition. If you choose machine washing, ensure you place them in a laundry bag for protection.



Featured articles

How to Wash Heated Gloves: A Ultimate Guide

12 Best Heated Ski Socks For 2023 Reviewed