Weston Heated Socks Reviews (Most Helpful)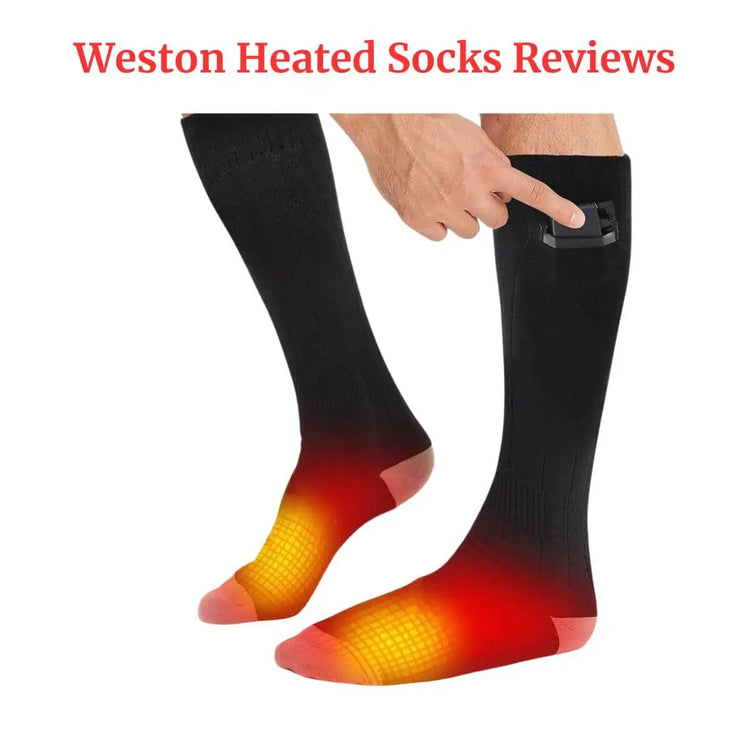 Is The Weston Heated Socks Best For You?
Who's Going to Love Weston Heated Socks
Outdoor enthusiasts in temperatures as low as -25°F (-31°C)


Individuals with Raynaud's or cold feet


People need long-lasting warmth
Who Should Steer Clear of Weston Heated Socks
Individuals outside the US shoe size range of 5 to 15


High-calf sock preferers


Budget-conscious shoppers
Weston Heated Socks are a premium choice, known for their long-lasting warmth. They excel in providing consistent heat, rapid warming, and extended battery life, ticking all the boxes for outdoor comfort and convenience.
Weston Heated Socks Video Review
Do you prefer watching to reading? Watch this video for Weston's heated socks review.
Weston Heated Socks Key Features

All-Day Warmth
Up to 8+ hours of continuous heat.

Customizable Heat
Three settings, maxing at 130°F.

Raynaud's and Cold Feet Friendly
Indoor and outdoor warmth.

-25°F Resistance
Fear no frost, as these socks are built to withstand temperatures as low as -25°F.

Quick Heat-Up
Ready in under 60 seconds.

Universal Fit
Fits US sizes 5 to 15.
Weston Heated Socks Price
The Weston Heated Socks are currently available at a
sale price of $79.95
. Additionally, they offer bundle pricing options, providing further savings for those looking to purchase multiple pairs.
Weston Heated Socks Pros and Cons
Pros
3 temperature settings up to 130°F/ 48°C


Keeps constant warm for up to 8+ hours


Rapid heating in less than 60 seconds


4000MAH Rechargeable batteries
Cons
Only one size


The socks only go halfway up the calf and may cause discomfort


It's a little expensive
How Do the Policies Measure Up?
Shipping Policy
Weston Heated Socks are shipped with the convenience of free shipping. Shipping time varies by location. Shipping time to the United States (except Alaska, Hawaii, and Puerto Rico ) is typically 3-7 business days after shipping.
Shipping to Canada, Alaska, Hawaii, Puerto Rico, and any other countries outside the US takes 5-15 days.
Warranty
Peace of mind comes with every purchase, as Weston Heated Socks include a 1-Year Warranty.
Return Policy
If you're not happy with your Weston Heated Socks, you can return or exchange them within 30 days of ordering. Just reach out to their support, and they'll guide you through the hassle-free process.
Weston Heated Socks User Reviews Screenshots
Ready for the real scoop on Weston Heated Socks? Below, you'll find genuine user review screenshots, giving you unfiltered insights straight. Scroll on to see what they're saying!
Weston Heated Socks vs. Savior Heated Socks
Weston Heated Socks are best for:
Immediate warmth users


Outdoor enthusiasts in temperatures as low as -25°F (-31°C)
Savior Heated Socks are best for:
Need Smarter, More Convenient (APP smart control)


Customizable heating (individual left/right control)


Outdoor enthusiasts engaged in various activities


Need your feet warm all day( up to 10 hours)


Need multiple sizes(S-XL)


Need battery display
Weston Heated Socks offer rapid heating. They're perfect for outdoor enthusiasts braving extreme cold.
Savior Heated Socks have an APP. The APP allows you to control the temperature for each foot. This feature provides personalized comfort. It is especially beneficial for tech-savvy users.
While both provide exceptional warmth, Weston focuses on straightforward efficiency, whereas Savior offers advanced, customizable control.
Weston Heated Socks Alternatives
What are the alternatives to Weston Heated Socks? Here are the more popular options:
| Brand | Savior | SNOW DEER | Dr.Warm |
| --- | --- | --- | --- |
| Price | $87.99 | $79.99 | $93.99 |
| Battery Life | Up to 10 hrs | Up to 6.5 hrs | Up to 7 hrs |
| Heat Settings | High, Med, Low | High, Med, Low | High, Med, Low |
| Size | S-XL | S-XL | S-XL |
| Material | Polyester | Polyester | Cotton |
| App Control | YES | NO | NO |
| Max Temp | 149°F | 131°F | 149°F |
| Overall Rating | 4.5/5 | 4.2/5 | 4.1/5 |

Heated Socks Buying Guide
Material
The fabric of heated socks plays a pivotal role in comfort and heat retention. Look for materials that are not only warm but also durable.
Fit and Comfort
A snug fit ensures efficient heat distribution. Socks shouldn't be too tight to restrict circulation nor too loose to compromise warmth.
Insulation
Good heated socks provide excellent insulation, trapping heat effectively.
Breathability
Breathable socks wick away sweat, keeping your feet dry and odor-free.
Battery Life
Battery longevity determines how long your socks remain warm. Opt for socks with batteries that last through your longest period of expected use.

Temperature Settings
Adjustable heat settings allow you to control the warmth based on external conditions and personal preference.

Remote Control
Some heated socks come with a remote control for ease of adjusting temperature settings without needing to access the socks physically.

Price
Balance quality and affordability.
Always consider your specific needs when making a purchase.
The Bottom Line on Weston Heated Socks
Weston Heated Socks are a solid pick for enduring cold weather, thanks to their reliable warmth and adjustable settings. Yet, they're not perfect — the one-size approach and mid-calf height might not suit everyone.
Looking for a tailored fit with advanced features? Check out
Savior Heated Socks
as an excellent alternative. They offer size variety and smart temperature controls for an enhanced experience.
Tried Weston or have a go-to heated sock brand? Share your thoughts in the comments!
Weston Heated Socks FAQs
How to wash Weston Heated Socks
Weston Heated Socks can be machine washed. Before washing, you need to remove the battery. It's recommended to wash them inside a linen bag or on a delicate cycle, and then hang them to dry. For more detailed guidance on washing heated socks, you can visit
this comprehensive guide
.
Are Weston Heated Socks good?
Yes, Weston Heated Socks are highly rated. They can keep your feet warm for up to 8+ hours.
They offer three heating levels and can withstand temperatures as low as -25°F. They warm up in less than 60 seconds. Customers have given positive reviews.

Related Articles
How to Wash Heated Socks: A Comprehensive Guide
12 Best Heated Ski Socks For 2023 Reviewed
The Ultimate Lenz Heated Socks Review 2023
Heated Insoles vs. Heated Socks: Which One Is Right For You?
Savior Heated Socks VS Lenz Heated Socks