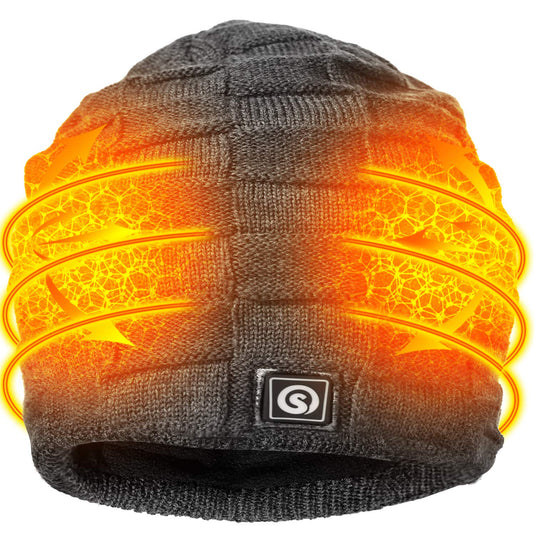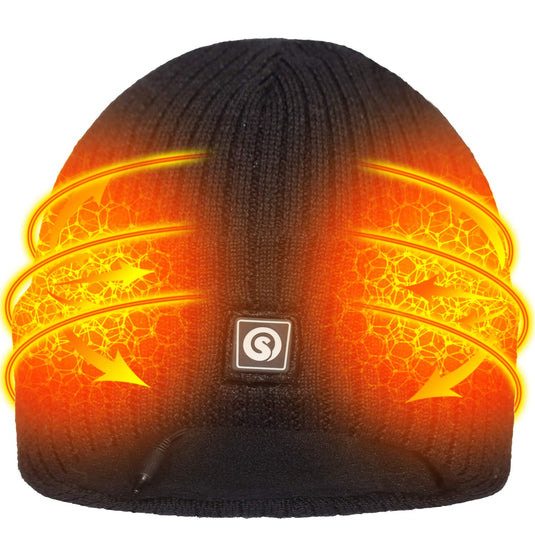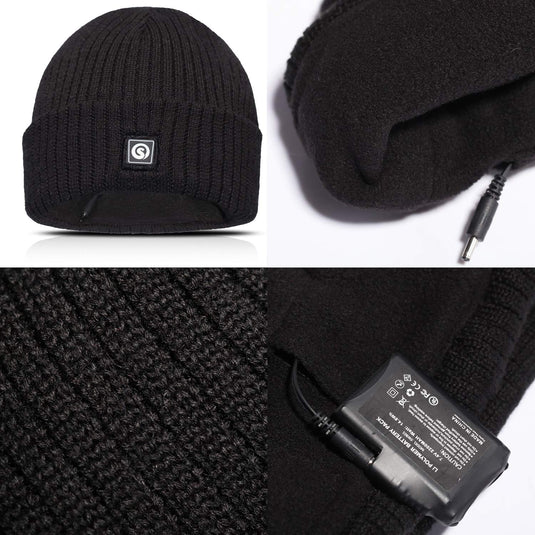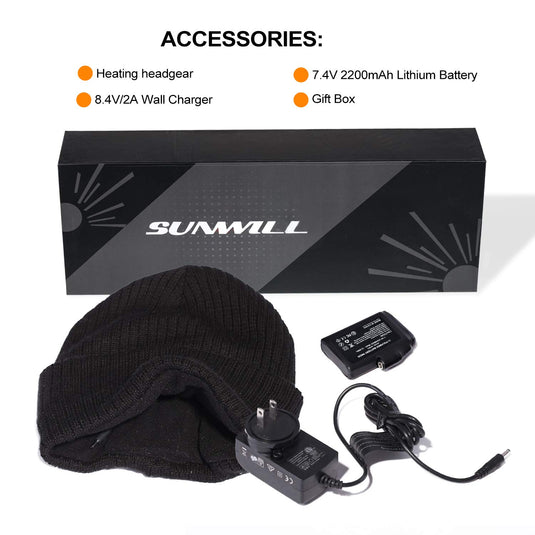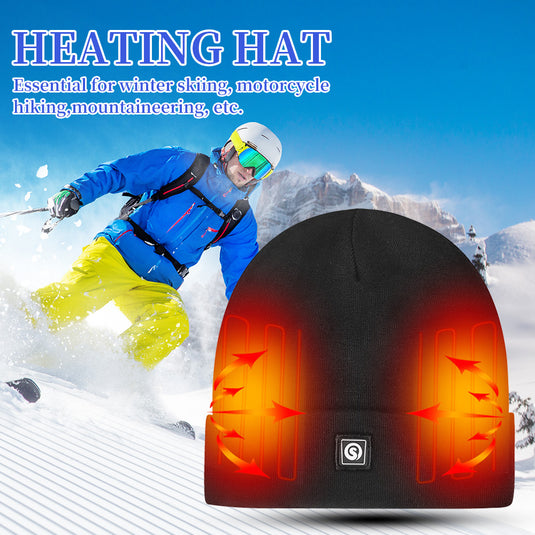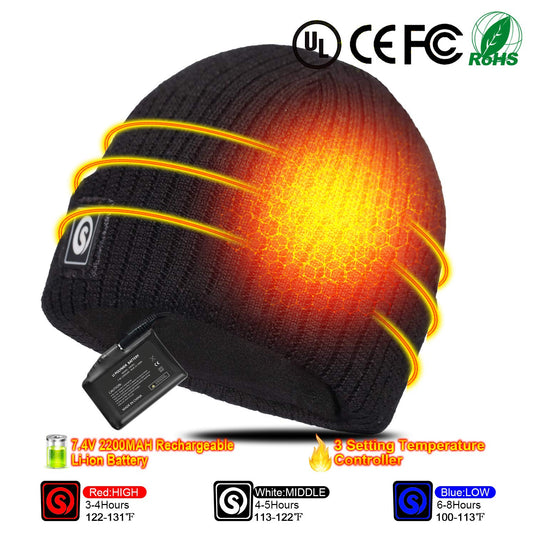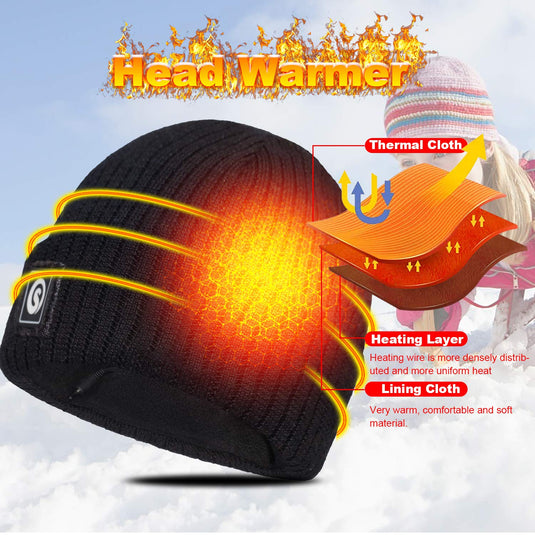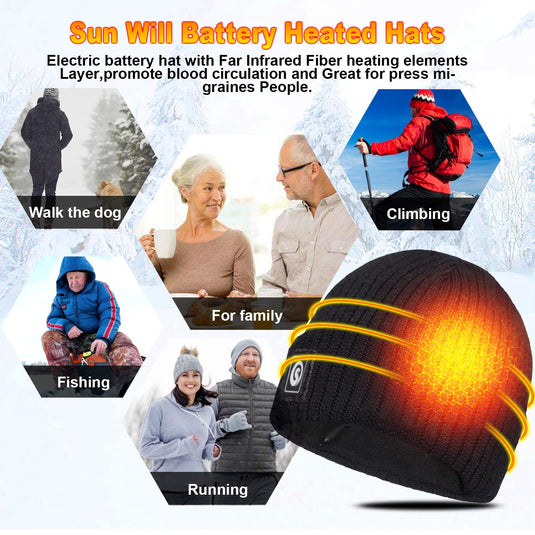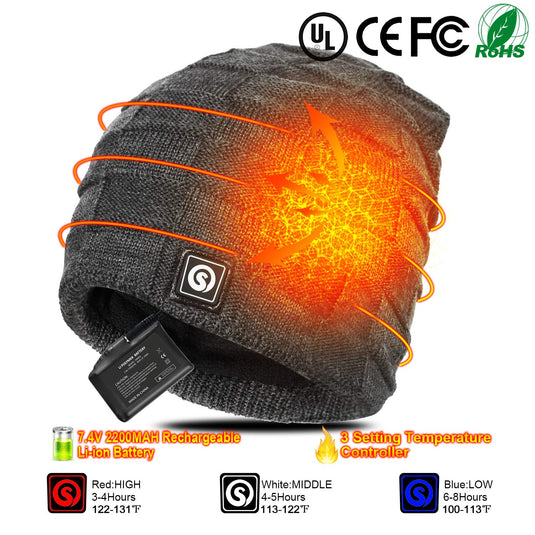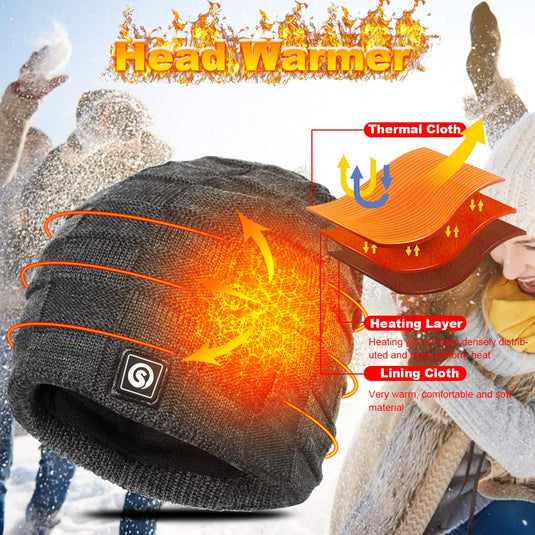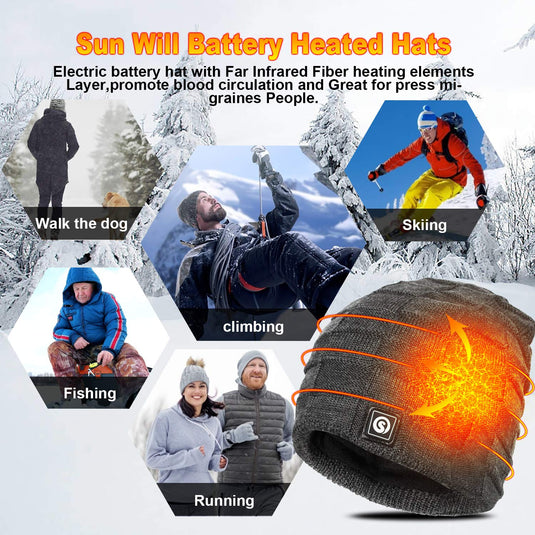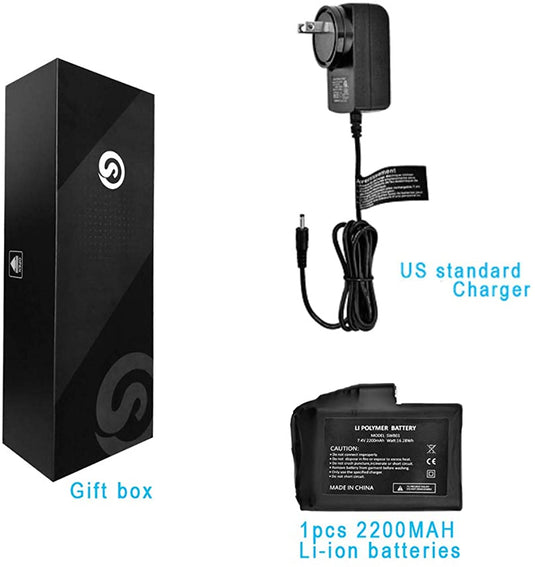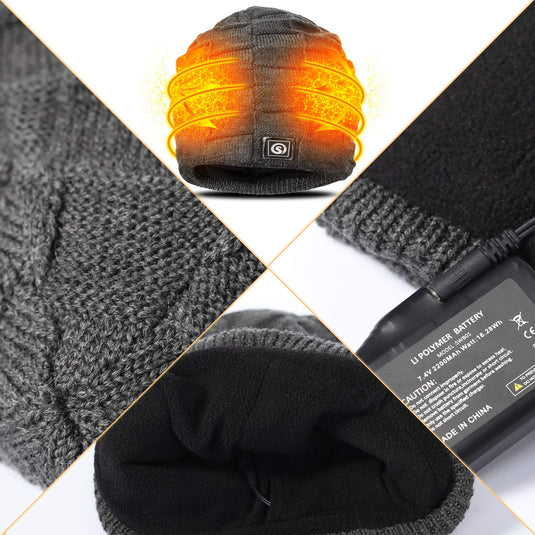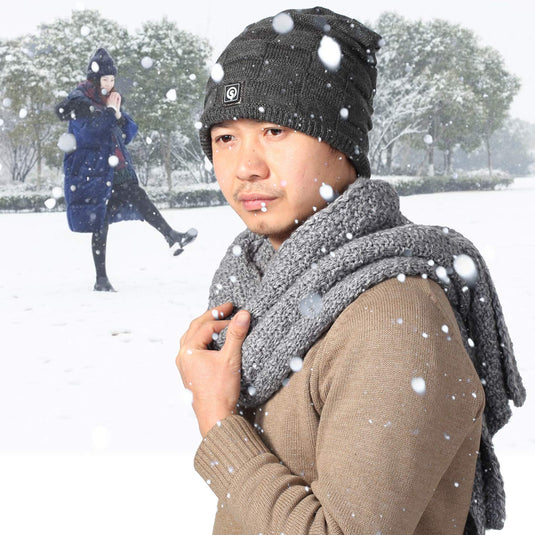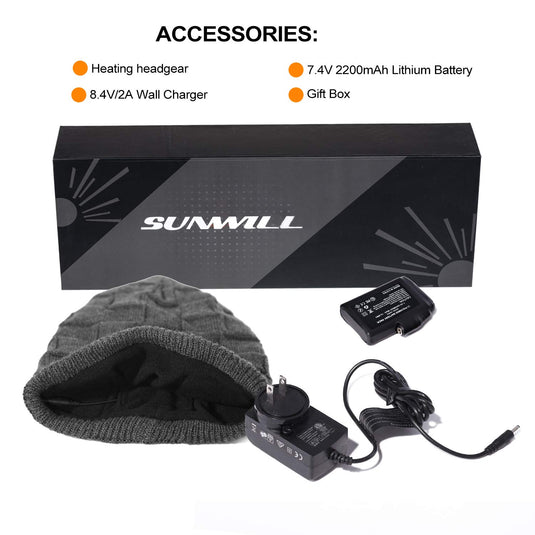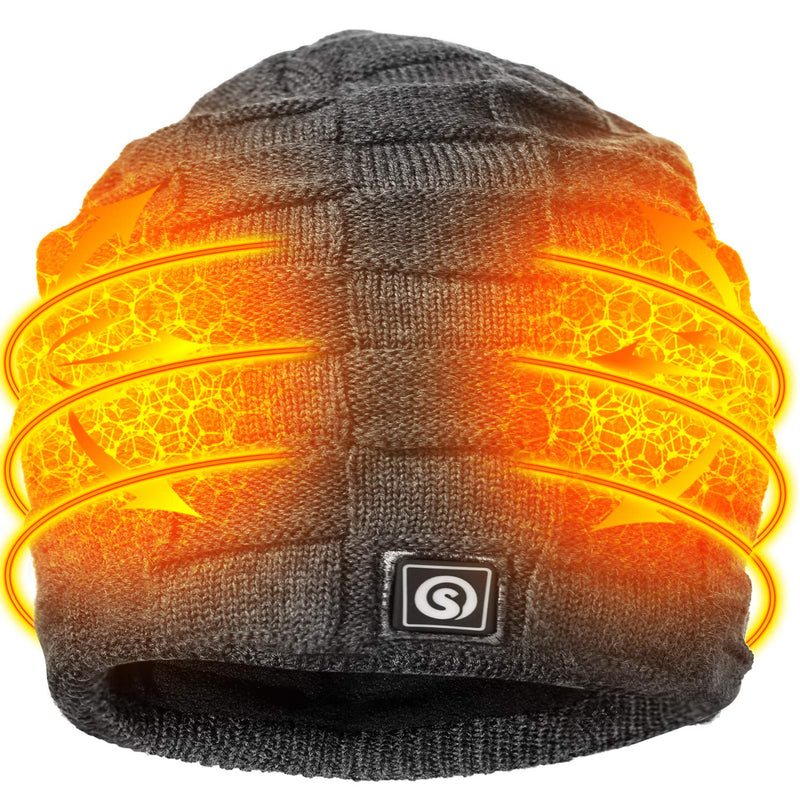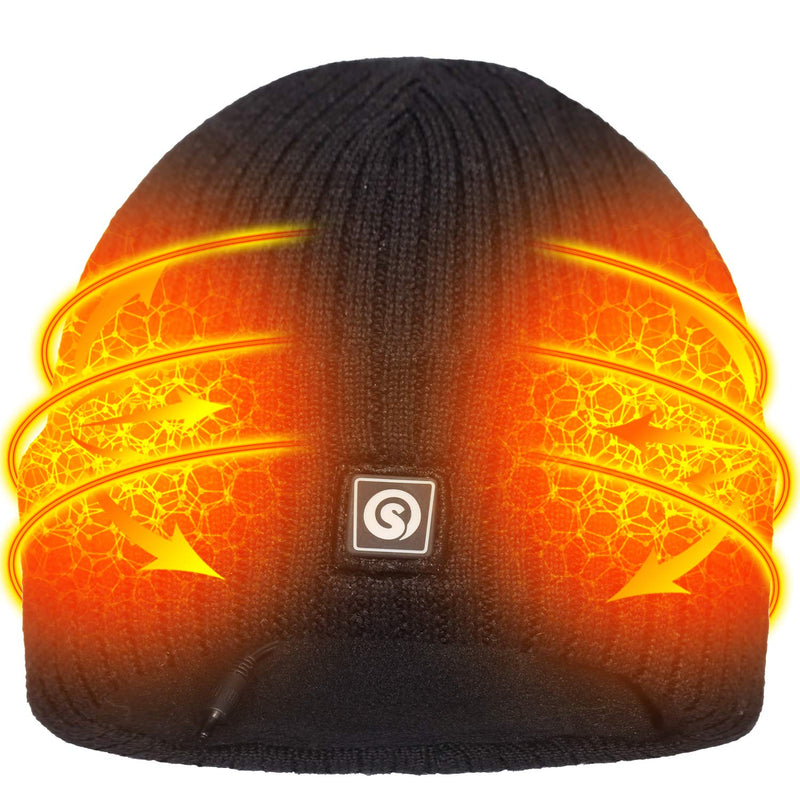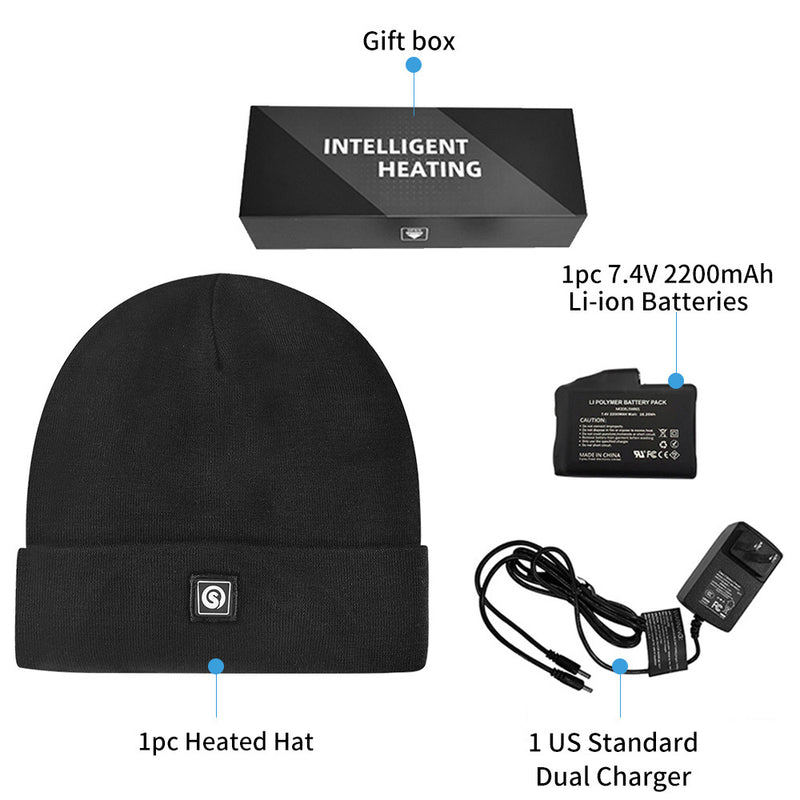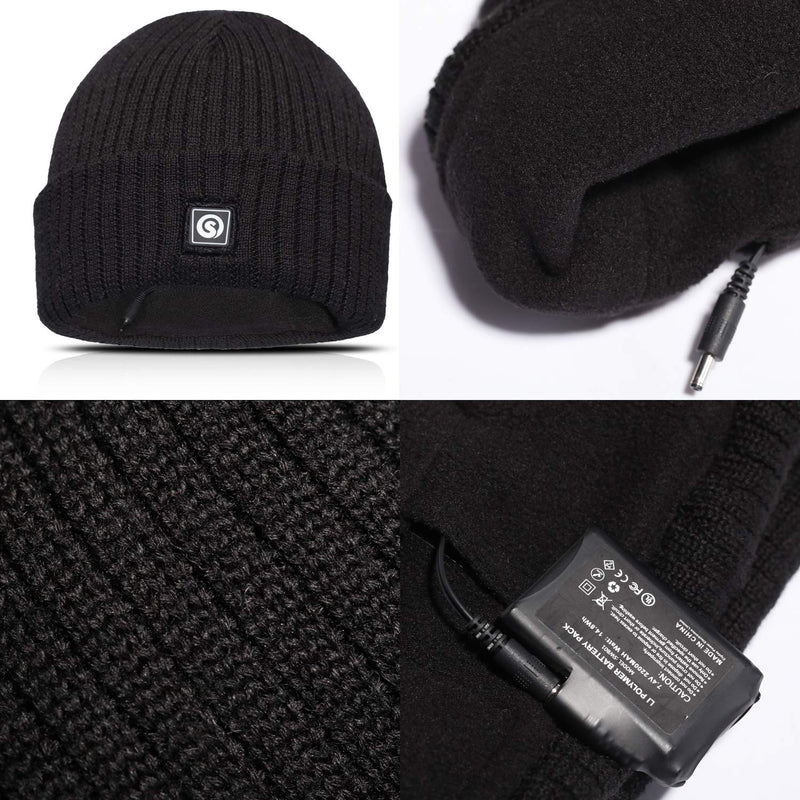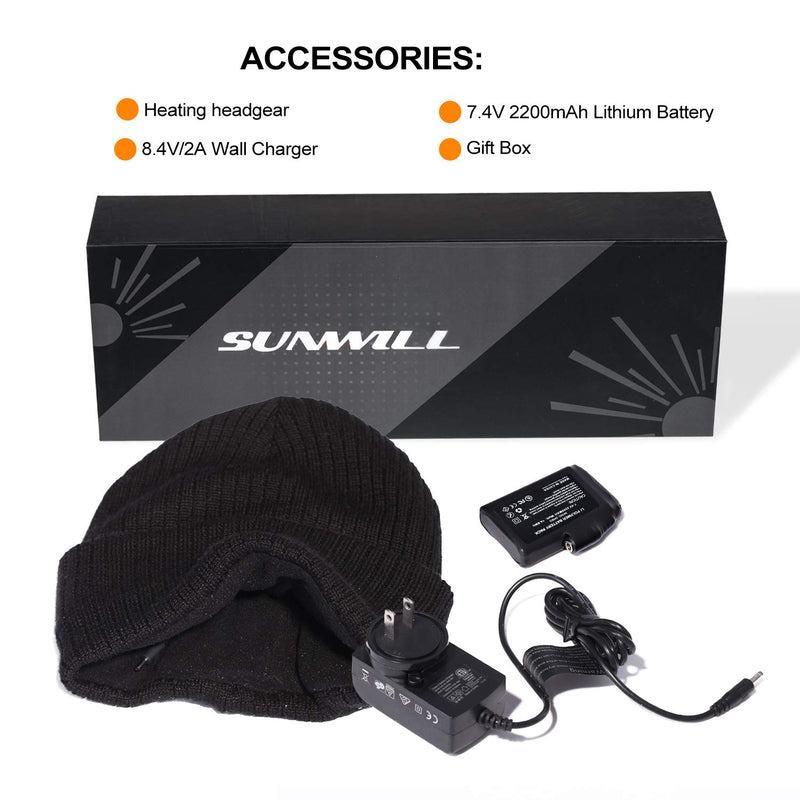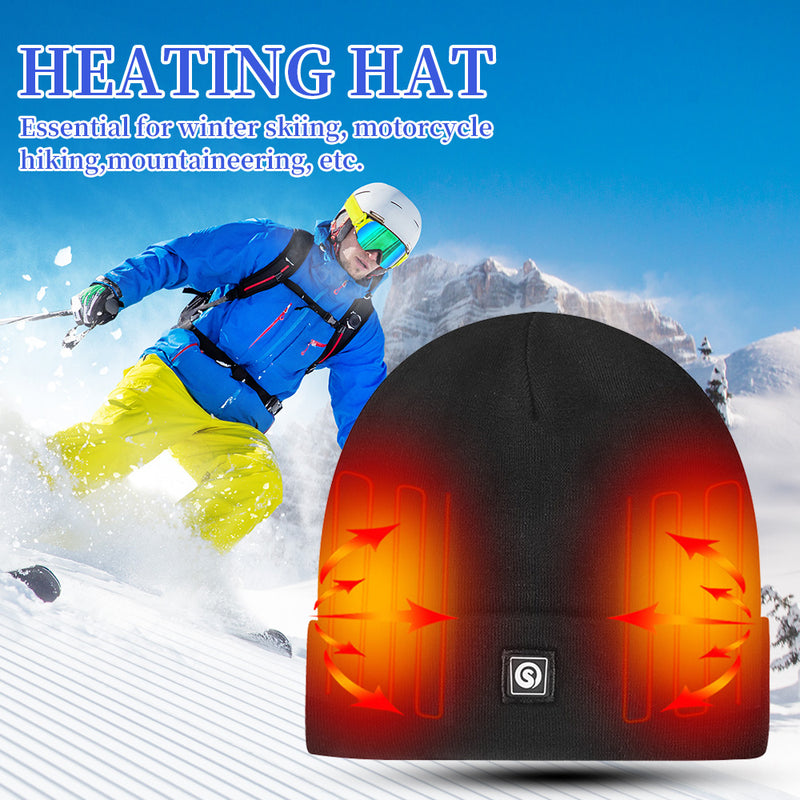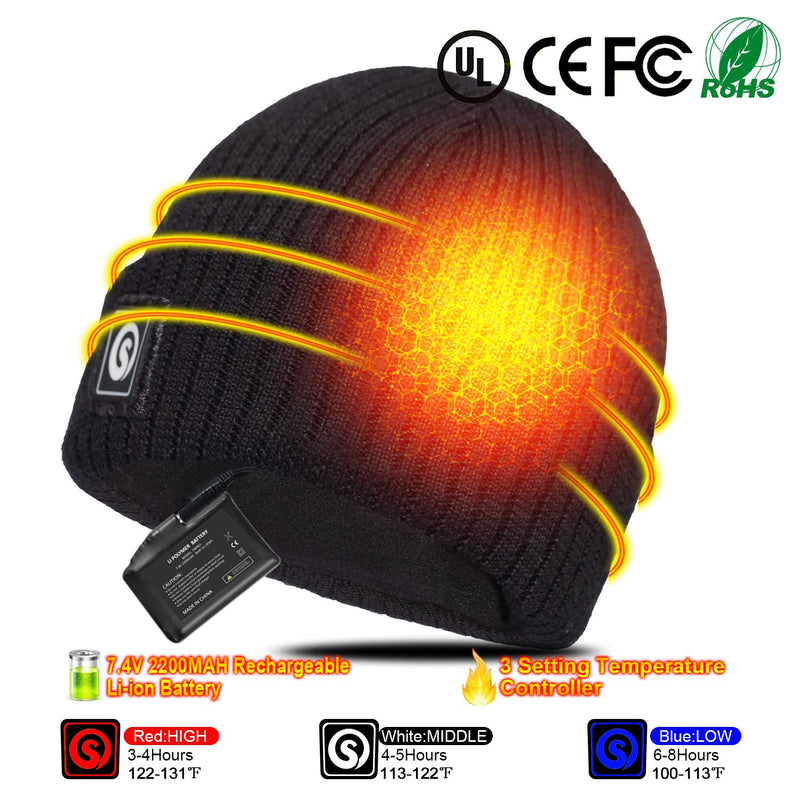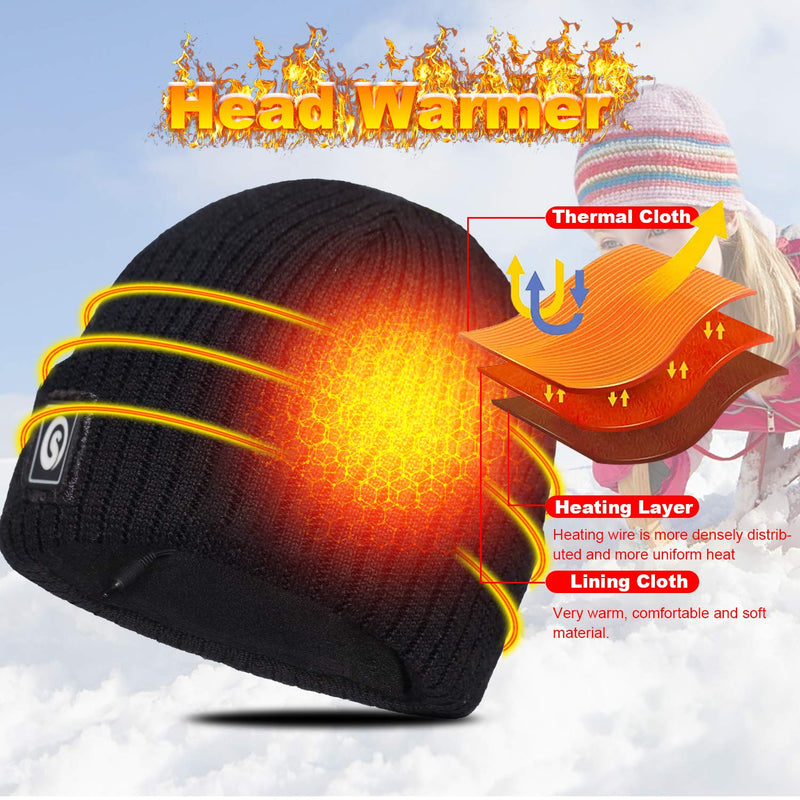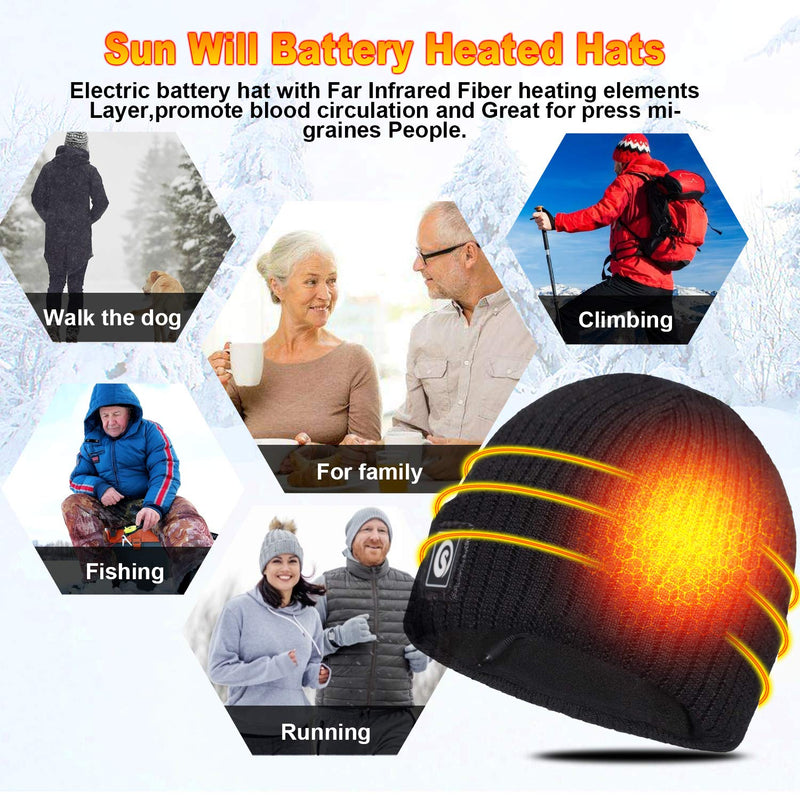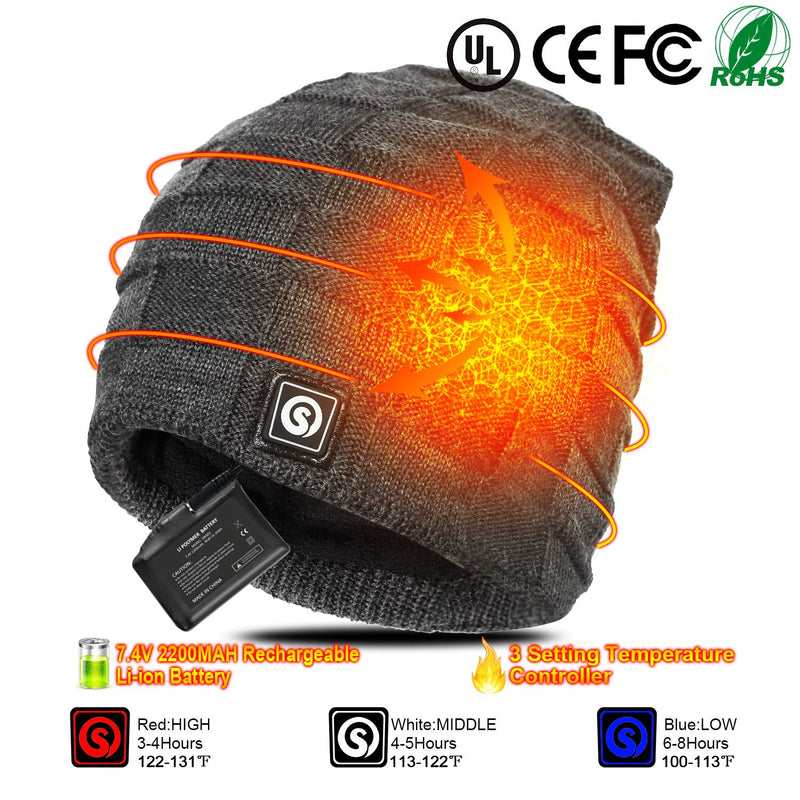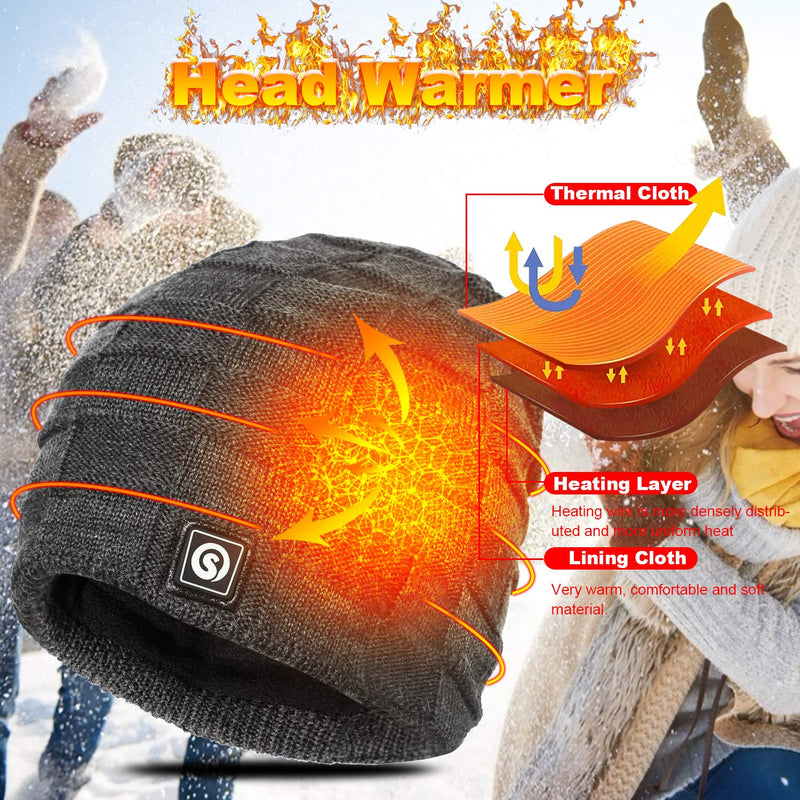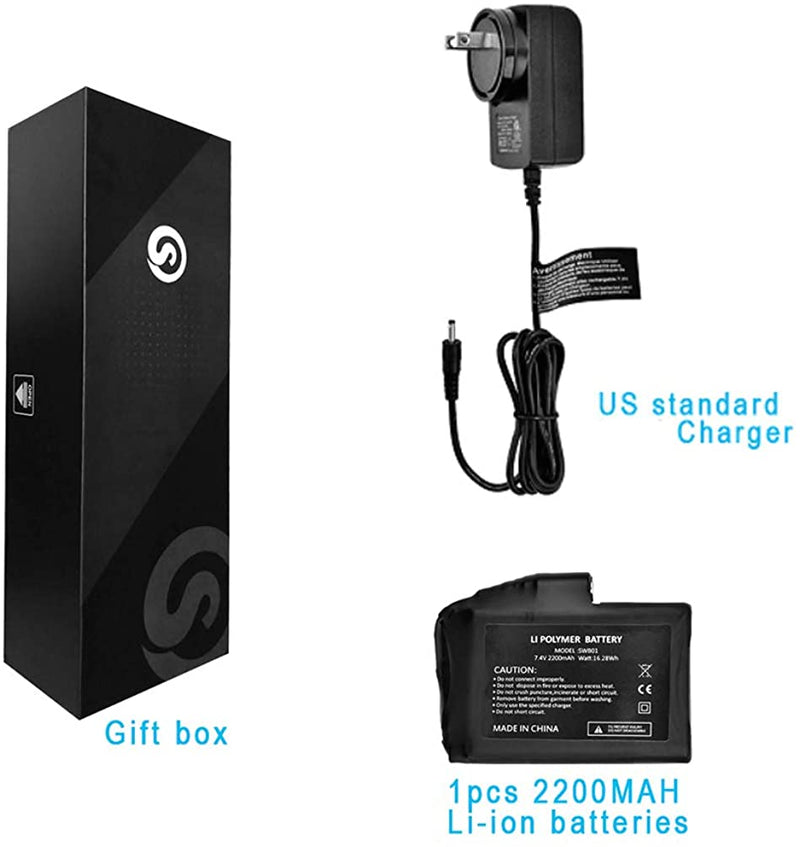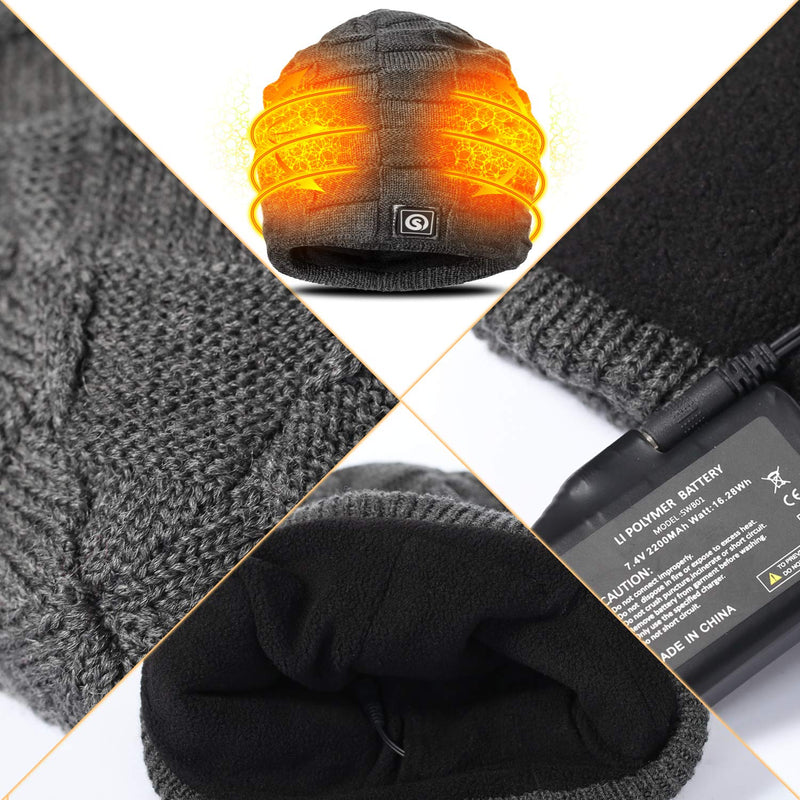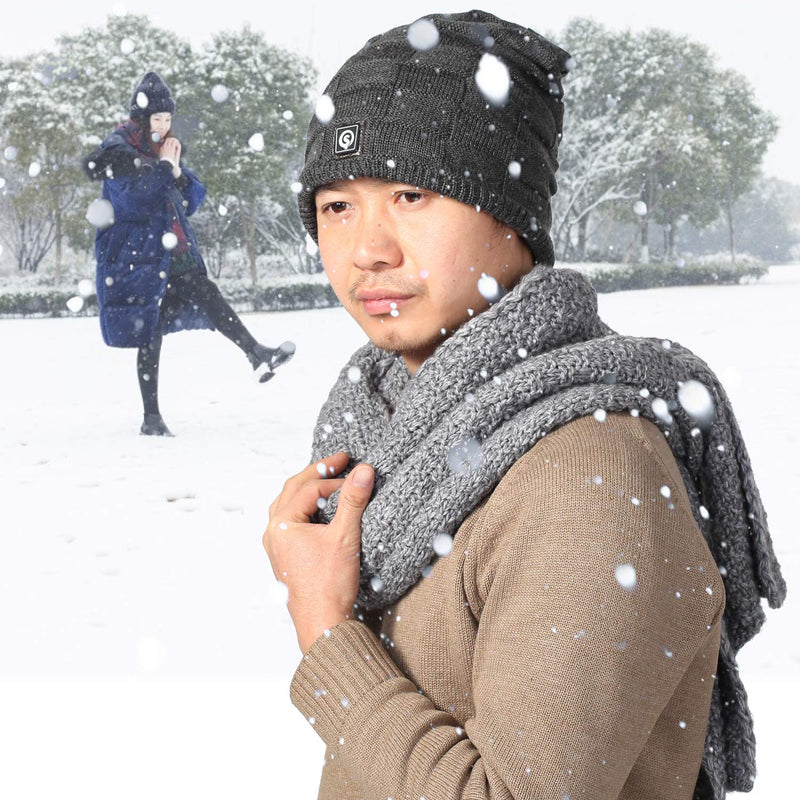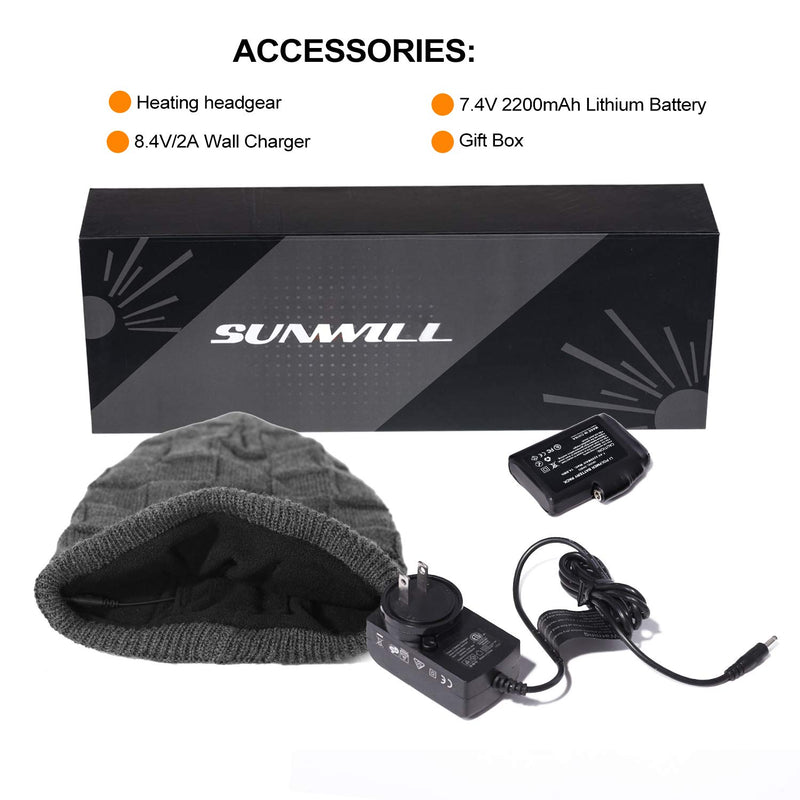 🔥🔥🔥Package include:
1*Electric Heated Hat
1*AC Charger
1*7.4V Li-ion Battery
1*Using Manual.
Men Women Rechargeable Electric Heated Fleece Hat Battery Powered Heat Knitted Cap,Winter Warm Heating Beanies Exquisite Woollen Knitting Thermal HATs,Sports Outdoors Skullcap for Climing&Hiking,Black,Size Free.

🔥🔥🔥3 HEAT SETTINGS:
Winter Warm Electric Heat Hat Upgraded with 3 Heat Settings to Provide the Most Appropriate Temperature for Everyone,Press ON/OFF Button to Free Adjust Temperature Settings.
🔥🔥🔥PREMIUM FLEECE MATERIAL: 
inner: 100% polyester fleece
outer: 50% wool, 50% acrylic
Can Generate Enough Warmth Even Do Not Use the Battery,Four Season Universal Woolen Hat Desined Thick Cotton Heat Insulate Windproof 3 Functions For All of U! Perfect for Sports & Daily Wear.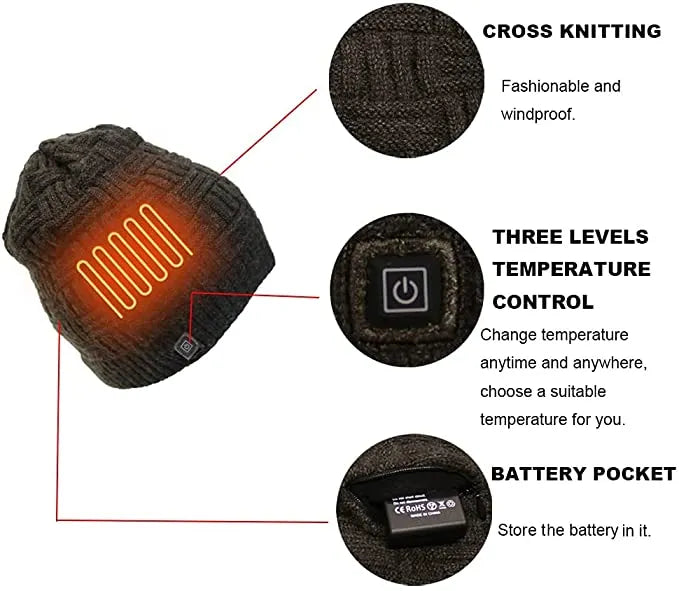 usage method:
Press ON/OFF button on the Hats to Activate the Battery:
Connect to the batteries with wires which located in the hat's pocket.
Press the ON/SETUP/OFF, then it is 3 Gear Red light.(100% heat)
Press the ON/SETUP/OFF again, then it is 2 Gear Red light. (75% heat).
Press the ON/SETUP/OFF again, then it is 1 Gear (50% heat).
Press the ON/SETUP/OFF again, then the light close and it will not heat.
Temputure switch and lasting hours(Fully charged):
Adjustable 3 Levels Temperature Settings:
3 Gear---Highest Setting
2 Gear---Medium Heat Setting
1 Gear---Lowest Heat Setting
Working Hours:(Fully Cahrged)
Highest Setting:3-4 Hours
Medium Setting:4-5 Hours
Lowest Setting:6-7Hours

Extra Tips:
In order to save more battery life and keep safety,you can set the hats at temperature setting High(3 gear)at first 5-15 munites(time varies due to different needs)
Then you can adjust it to setting Medium(2 gear)or Setting Low(1 gear) and you will feel fine.

One Size Fits All:
Autocastle winter warm heated hats designed with free size,according to thousands of study,Autocastle heated hats fit for most unisex men women.
CAP: 9*11inch(Length/Width)
Circumference: 22-23.6inch
You have no need to borthered by size option,Autocastle heated hats fit perfectly for unisex men women girls,senior with great elastic,and super cozy lining will makes everyone whoever wear the hats satisfied!
Elegant Package Makes it Perfect for Gift Ideas:
Autocastle Electric Heated Hats is greatest gifts for your families and friends---Best Gifts Ideas Ever This Winer

Designed to keep your head warm even in cold conditions,Heating elements are integrated into the 2 ears and radiate heat that warms the whole body.
Washing Matters:
1.Recommend hand wash,soft wash:
This washing method will be better to the heating elements.
2.Machine Wash:
Electric Heated hats Can be Machine Washable,but do remember to take out the batteries and put the cable in the side pockets.
Please put the hats into washing bag before washing.
Over-Voltage Protection:
After Fully Charged,the Charger Light Will Turn Red to Green:

When the batery reaches the assigned voltage (The voltage when the battery is fully charged),charger's indicator light will turn green and stop charging
Can fully charge 2pcs Li-ion Batteries in 4-5 hours without nterruption.
Please note that it need to charge about 12 Hours to activate for the first time use.