Savior Heated Gloves Review Of 2023 (Most Helpful)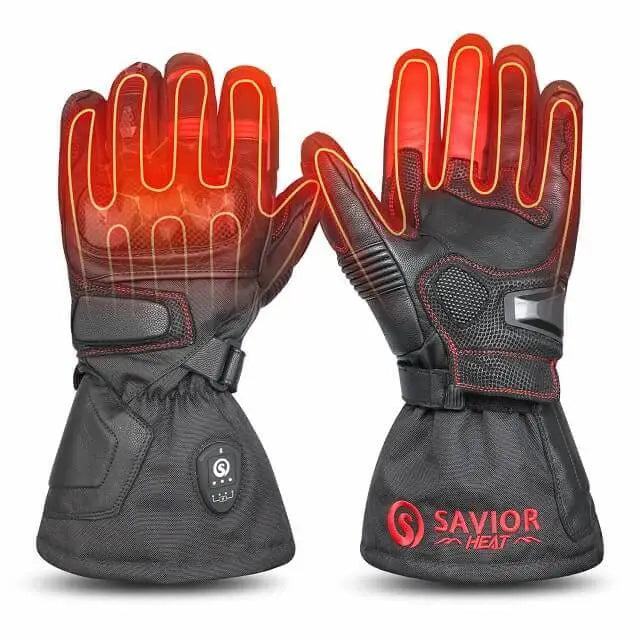 Is The Savior Heated Gloves Best For You?
Those who like to remote control the temperature


Those who like to ride


Those who like to heat up quickly


People with high demands for security and protection

Who Should Steer Clear of Savior Heated Gloves
Those who prefer more flexibility


Those who prefer lighter
Savior Heated Gloves are a premium option known for long-lasting warmth. They excel in ease of handling, rapid warming, and safety and protection, meeting all requirements for outdoor comfort and convenience.

Savior Heated Gloves Video Review
Do you prefer watching to reading? Watch this video for Savior's heated gloves review.

Savior Heated Gloves Key Features
APP Intelligent Control
Supports APP smart temperature control.

Superior security and protection
Leather-reinforced anti-fall, anti-slip palm rest, and finger anti-collision pads.

Fast heating
Heat up within 30 seconds, providing immediate warmth.

Touch screen support
The touch sensor on the index finger works on any smart device.

Long-lasting heating
Up to 8 hours of heating.

Savior Heated Gloves Price
The Savior heated gloves are currently available at a sale price of $159.99.

Savior Heated Gloves Pros and Cons
Pros
Intelligent temperature adjustment via app


Keep the manual switch


Remaining Battery Display


Warms the back of the hands and fingertips


Fast heating in 30 seconds


Anti-fall, anti-slip and anti-collision
Cons
It's a little bulky


Flexibility did not meet expectations
How Do the Policies Measure Up?
Shipping Policy
Orders are processed within 1-2 days. They are then shipped from centers located in the US, Canada, UK, Spain, Poland, Russia, or China. The specific center used for shipping is determined by the availability of stock.
Shipping Duration: Packages typically arrive within 5-15 business days after processing, depending on location and shipping options.
Shipping Fees: Vary based on weight and destination, with express options available; standard shipping is free for orders over $80.

Warranty
Savior Heat provides a 6-month limited warranty on items, with a free 12-month extension available, covering material and workmanship defects.
The warranty doesn't apply to used items, improper use, or purchases from unauthorized channels.

Return Policy
Savior Heat accepts returns and exchanges within 30 days for items in new condition, excluding final sale items and free gifts. Customers cover return shipping unless it's a company error.

Savior Heated Gloves User Reviews Screenshots
Ready to find out what Savior Heated Gloves is really like? Below, you'll see screenshots of a portion of reviews from real users. Keep scrolling to see what they are saying.
Savior Heated Gloves vs. ORORO Heated Gloves

ORORO Heated Gloves are best for:
Those who prefer lightness and flexibility


Those who like to wear it 3 different ways
Savior Heated Gloves have smart temperature control through an app, a reliable manual switch, and a battery display for monitoring. They are designed for durability with anti-fall, anti-slip, and anti-collision features.
On the other hand, ORORO Heated Gloves are ideal for those who value lightness and versatility, offering a unique 3-in-1 design. They can be worn in three different ways, providing users with flexibility according to their needs.
Savior Heated Gloves are for tech-savvy users who want control and quick heating. ORORO is for those who prefer lightweight, versatile options.

Heated Gloves Buying Guide
Before purchasing heated gloves, please consider the following factors:
Material
Seek materials that balance durability and comfort, like a sturdy outer layer for weather resistance and a soft inner lining for warmth.
Insulation
Good insulation is key.Thinsulate offer warmth without bulk, ensuring your hands stay warm without compromising dexterity.

Comfort and Fit
Gloves should fit snugly but not tightly, allowing full range of motion; adjustable wrists or cuffs can help secure the fit and trap heat.

Safety and Protection
Prioritize gloves with built-in safety features, such as automatic shutoffs to prevent overheating and waterproof exteriors for wet conditions.

Battery Life
Look for gloves with long-lasting batteries; those that provide 6 hours or more of heat are ideal for extended outdoor activities.

Heating Temperature
Adjustable heat settings are preferable for adapting to changing conditions and personal comfort levels.

Price
Consider value over cost; higher-priced gloves often offer more features and durability, making them a wiser long-term investment.

Warranty
A solid warranty indicates a trustworthy product; ensure the company offers comprehensive coverage for defects and performance issues.

The Bottom Line on Savior Heated Gloves
Savior Heated Gloves are a solid choice for those prioritizing smart control, quick heating, and robust safety features. However, they might not suit fans of ultra-lightweight gear or those seeking extreme flexibility.
Do you have thoughts or experiences with Savior Heated Gloves? Drop a comment below; your insights are invaluable and can help others in their decision-making process! Stay warm out there!

Savior Heated Gloves FAQ
Savior heated gloves size chart
How to charge Savior heated gloves?
Battery Preparation
Your Savior Heated Gloves come with 2 rechargeable 7.4v 2200mah lithium batteries. Ensure they are fully charged before first use for best performance.

Charging Process
Remove the batteries from the battery pouches in the gloves.


Connect the batteries to the included dual charger.


Plug the charger into an electrical outlet. The charger's indicator light will show red during charging.
Charging Time
A full charge takes about 3-4 hours. The charger's indicator light will turn green when the batteries are fully charged.

Battery Duration
Once charged, the batteries provide 3-6 hours of heat, depending on the heat setting used.

Long-term Storage
If you plan to store your gloves for an extended period, charge the batteries to about 50% (approximately 1 hour of charging) before storage. It's recommended to recharge the batteries every three months during storage to maintain their lifespan.

Safety Tips
Don't overcharge the batteries, and always follow the manufacturer's instructions for charging and care.

Are Savior heated gloves any good?
Savior heated gloves are praised for their effective heating and adjustable settings, suitable for cold weather activities. However, they may require extra batteries for prolonged use in extreme cold, and some users have raised concerns about durability.Overall, they're seen as a good investment for consistent warmth.
Featured Articles
How to Wash Heated Gloves: A Ultimate Guide
9 Best Heated Ski Gloves Of 2023 Reviewed-Helpful Guide
Best Heated Motorcycle Gloves Of 2023-Top 5 Reviewed
Best Heated Motorcycle Gear Of 2023:Wear it, Cold No Issue
Best Heated Snowmobile Gloves Of 2023 ( Top 5 Reviews)