Weston Heated Gloves Review of 2023 (Most Comprehensive)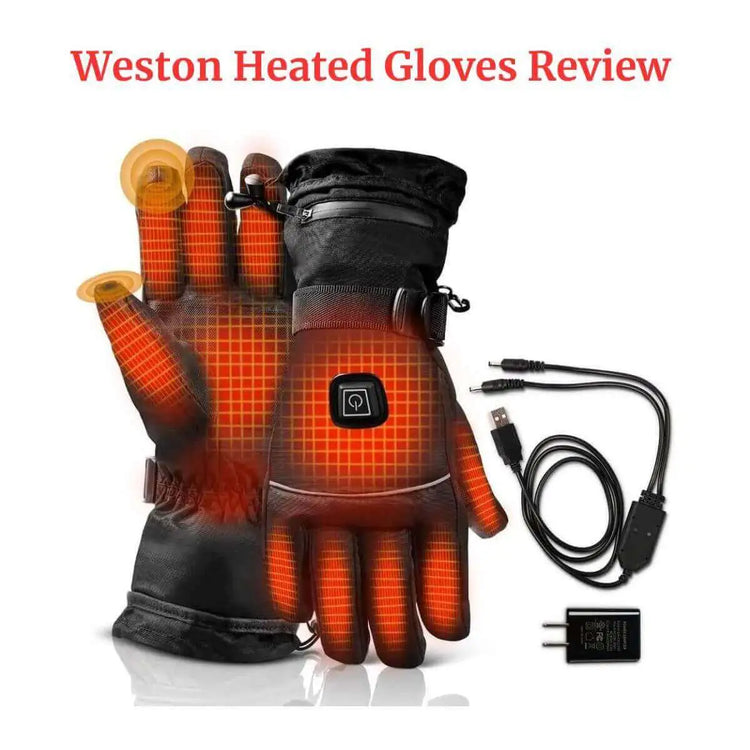 Weston Heated Gloves is a game-changer in the world of hand warmth. With features like adjustable heat settings, water resistance, and long-lasting rechargeable batteries.
But how effective are Weston Heated Gloves at keeping your hands warm?
Are they worth the investment?
And how do they compare to other electric gloves on the market?
In this comprehensive Weston Heated Gloves review, we'll dive deep into everything you need to know—from the pros and cons to key features to customer reviews. 
We'll also explore how these gloves stack up against their competitors, so you can make an informed decision.
About Weston Heated Gloves

Weston was founded in 2010 by a group of outdoor enthusiasts who shared a common vision: to create innovative heated clothing that could redefine comfort in colder climates. 
They're on a mission to change cold-weather comfort, making it easy for you to enjoy the outdoors or stay cozy indoors. They focus on quality and innovation, ensuring each product meets high standards of craftsmanship and durability.
Key Features of Weston Heated Gloves


Adjustable Heat Settings: High, medium, and low options for tailored warmth.


Long-lasting Rechargeable Batteries: Up to 8 hours of heat.


Water Resistance: Ideal for snowy and rainy conditions.


Premium Materials: Crafted for durability and comfort.


User-Friendly: One-button operation for heat settings.


Versatile Use: Suitable for skiing, snowboarding, and medical conditions like Raynaud's.
Weston Heated Gloves Price

Priced at $119.95 on the Weston Store, these gloves may seem like a significant investment. But if you're someone who spends considerable time outdoors or struggles with cold fingers, the value they offer is undeniable.
While they may not be the cheapest option on the market, their quality and long-lasting batteries make them a worthwhile purchase.
Weston Heated Gloves Pros and Cons
Pros
Adjustable Heat Settings: Tailor your warmth with high, medium, and low options.


Long Battery Life: Up to 8 hours of continuous heat.


Water-Resistant: Designed for use in wet conditions like snow and rain.


Premium Materials: High-quality construction for durability and comfort.


User-Friendly: Simple one-button operation for heat adjustment.


Versatile Uses: Ideal for outdoor activities and medical conditions like Raynaud's.
Cons
Mixed Reviews: Some users report insufficient heating in extreme cold.


Bulkiness: May be too large or heavy for some users.


Limited Availability: Often out of stock due to high demand.


Charging Times: Takes a few hours to fully recharge the batteries.


Single Color Options: Limited to one color, reducing style choices.
Weston Heated Gloves Alternatives
What are the alternatives to Weston Heated Gloves? Here are the more popular options:
Brand  Feature
Savior Heated Gloves
Venustas Heated Gloves
SNOW DEER Heated Gloves
Price
$139.99
$129.99
$119.99
Battery Life
Up to 7 hrs
Up to 8 hrs
Up to 6 hrs
Heat Settings
High, Med, Low

High, Med, Low

High, Med, Low
Size
XS-3XL
S-2XL
S-3XL
Material

 lambskin and polyester 

lambskin and polyester

polyester and elastane

Touch screen

Yes

Yes

Yes

Max temp
140

°F

131

°F

140

°F

Customer Ratings
4.3/5
4.3/5
4.1/5
Related articles:


9 Best Heated Ski Gloves Of 2023 Reviewed-Helpful Guide

Best Heated Motorcycle Gloves Of 2023-Top 5 Reviewed

Best Heated Snowmobile Gloves Of 2023 ( Top 5 Reviews)


How to Wash Heated Gloves: A Ultimate Guide
Best Heated Motorcycle Gear Of 2023:Wear it, Cold No Issue
Savior Heated Gloves Review Of 2023 (Most Helpful)
Savior Heated Gloves vs Weston Heated Gloves

Choosing between Savior and Weston heated gloves boils down to your specific needs
Savior Heated Gloves offer a blend of lambskin and polyester, making them both breathable and waterproof. They come with three heat settings and a quick heat-up time of 30 seconds.
These gloves are versatile, suitable for various outdoor activities like skiing, hiking, and fishing. They also feature touch screen capabilities and illuminated strips for added safety.
Weston Heated Gloves, on the other hand, are designed for broader applications, including medical conditions like Raynaud's.
They offer adjustable heat settings and up to 8 hours of battery life. Additionally, they are water-resistant and come with long-lasting rechargeable batteries.
Your choice may hinge on the features you prioritize. If you're looking for quick heat-up and multiple outdoor applications, Savior is a strong contender. For more adjustable features and medical applications, Weston takes the lead.
Heated Gloves Buying Guide
Before purchasing heated gloves, please consider the following factors:

Long-lasting Heat:
Opt for gloves that offer long-lasting heat, ideally ranging from 2 to 8 hours on a full charge. The medium heat setting is often the most comfortable and efficient.
Grip & Flexibility:
If you're into winter sports or outdoor activities, choose gloves with a multi-layered design and grippy material on the palms and fingers.
Material & Comfort:
Look for gloves made of high-quality materials like polyester with down-alternative insulation for comfort and durability.
Ease of Use:
Gloves should be user-friendly, with simple controls for heat settings. Rechargeable lithium-ion or lithium-polymer batteries are generally the most reliable.
Safety:
Most heated gloves are safe to use, featuring batteries that shut off in the event of a short circuit.
Additional Features:
Touch-screen compatibility and water-resistance are valuable add-ons.
The Bottom Line on Weston Heated Gloves
Weston Heated Gloves are a top-tier option for those seeking comfort and warmth in cold conditions. With adjustable heat settings and long-lasting battery life, they are a reliable choice.
However, some users have noted that they can be a bit bulky, which might affect manual dexterity.
As an best alternative, I would suggest looking at Savior Heated Gloves .
If you have better think, share you experiences in the comments section.